About Us
We're a small team building big solutions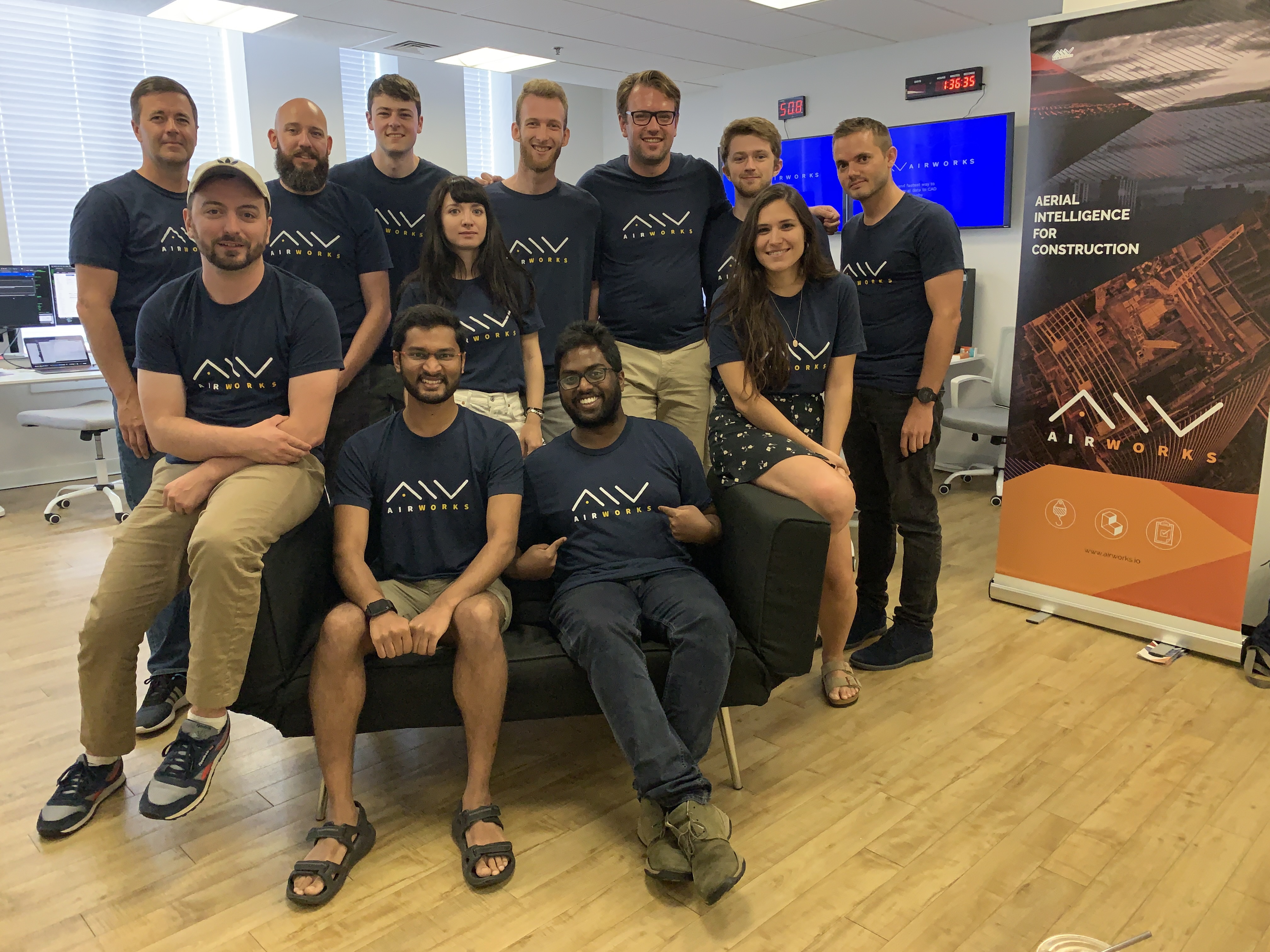 Why Choose Airworks
We're bringing automation to the drafting process.
AirWorks aerial mapping software helps land developers and engineers evaluate more job sites within their critical planning and acquisition schedules. Through our proprietary machine learning and aerial mapping technology, AirWorks can convert any aerial dataset into CAD site plans fully autonomously, speeding up the current surveying process by weeks. The AirWorks platform allows clients to find existing information in one centralized database and provides the opportunity to order a detailed aerial site inspection that is cost-efficient with the fastest turnaround time.
About Us
AirWorks was founded in 2017 by David Morczinek and Adam Kersnowski,
whose complementary backgrounds in the aerospace and construction industries forged the idea of applying machine learning and artificial intelligence to automate aerial data processing. The company is headquartered in Boston and employs a talented team of 15 software developers, engineers, marketers, and designers.
David Morczinek
Co-Founder and CEO
Co-founder and CEO, David Morczinek spearheads the company's development of automation technology to advance the application of aerial intelligence to help transform industries, including engineering and construction. Following a successful decade-long career in the aerospace industry, David completed his MBA from the MIT Sloan School of Business in June 2018. While at MIT, he conducted research in the areas of aerial data management, big data, machine learning and aerial delivery technology. He also participated in MIT's premier startup accelerator, Delta V, which ultimately helped launched AirWorks with venture-backed funding. Prior to Sloan, David worked for aerospace innovation leader, Airbus, as a sales contract negotiator in Madrid, Spain where he managed aircraft and services contracts with European and Asian governments. He also worked as a program manager enabling the completion and delivery of Airbus' most modern civil aircraft. David holds technical degrees from Hamburg Technical University and Toulouse National Institute of Science Applications.
Adam Kersnowski
Co-Founder and COO
Co-founder and COO, Adam Kersnowski leads the company's development and implementation of strategic plans for UAV operations within the construction industry, in addition to overseeing AirWorks overall business operations. Prior to co-founding AirWorks, Adam ran a successful construction business for more than ten years, constantly finding innovative ways to grow revenue and increase margins. A visionary by nature, he wanted to revolutionize technology in his own company and began implementing the use of UAVs to inspect building facades, roofing components and other hard to access areas. This work eventually led to the development of UAV acquired data for AI in the construction industry and the early beginnings of AirWorks. Adam graduated with a Bachelor of Science degree from the University of Southern Maine.
Garrett Hemann
Vice President of Engineering
VP of Engineering, Garrett Hemann leads the company's image processing, machine learning development, and web application development teams. Garrett's broad background in robotics, state estimation, artificial intelligence, and focus on UAV applications are uniquely suited to overseeing the AirWorks engineering organization. Before AirWorks, he spent his career at both Lockheed Martin and Draper Laboratories, where he developed real-time state estimation algorithms for localization and mapping. He also co-founded an EdTech startup focused on providing teachers with student social and emotional learning (SEL) data to improve the classroom experience. Garrett received his undergraduate degree in Aerospace Engineering from MIT and holds a master's degree in Robotics from Carnegie Mellon University.